In conversation with Michael Zankel
A Matter of Perspective
Issues
Text
Tags
The Austrian Michael Zankel has been Regional Director East Asia at Gebrüder Weiss since 2017: since 2020 he is also responsible for the company's business in Oceania.
What role do the branches in New Zealand and Australia play in the Gebrüder Weiss network?
These countries have been a valuable addition for us. In the past, we were thinking more in east-west terms: Europe, North America and Asia in the northern hemisphere. We lacked a north-south connection. Australia and New Zealand are situated between the Americas and Asia, and maintain strong trade relations with both continents. The markets there are very import-oriented; the new lines we are setting up bring advantages to our customers. Our network has thus not only become larger, but more global as well.

Christchurch in New Zealand is the southernmost Gebrüder Weiss outpost in the world; it is far away from trading partners in the Americas and China, and from the head office in Austria. How do you work together over such great distances?
That obviously depends on your perspective: from Austria, the distance to Australia is enormous. From Hong Kong, where my office is, New Zealand is just as far away as Europe and the United States. So coordinating business from here is not a problem. Generally speaking, the distances are quite long in the Eastern Asian/Oceanic region. Our northernmost destination of Seoul and the southernmost one in Christchurch are separated by more than 10,000 kilometers. Is that a special challenge? Hey, we're logistics experts, it's our job to overcome distances. Singapore gives us a good bridgehead for Australia and New Zealand. Some 80 % of Australia's economic output is generated by the coastal cities of Sydney, Melbourne, Adelaide and Brisbane. Perhaps Perth, located in the west, also has some economic significance, but the rest of the country is basically unpopulated. For us that means the relevant places are in closer proximity than one might imagine. These are practically European distances.

The bigger challenge lies in the different time zones. It's already five hours from New Zealand to Hong Kong, and 12 hours to our head office. That is, quite literally, the difference between day and night. I believe that the spatial distances, which is how we usually conceive of them, can definitely be bridged by overcoming the inner distance in the region: by close cooperation, good communication, lots of interaction, networking...there's a great deal you can do.

The Oceania locations were opened in the middle of the pandemic; to date, you have not been able to travel personally to Australia or New Zealand. How have you built up close contact with your on-site colleagues despite the Covid restrictions?
In February 2020, shortly before everything shut down, I was able to meet our current Managing Director Australia and New Zealand, Andrew Antonopoulos, in Vietnam. He is the only member of the team I know personally. Sure, that is a challenge – one that has a lot to do with trust. Since the country organization opened, we have launched several initiatives under the heading "cooperation." We've created various project groups in areas such as logistics, purchasing, talent development and marketing, in which managers and directors from our region work together in teams. We have also organized intensive team coaching that lasts several months. This has led to a situation in which people who have never actually met still have the feeling they know one another well. That has been an enormous help.

The pandemic has also impacted business in the two island nations, as they are very dependent on imports. What do the disruptions in the global supply chain mean for Gebrüder Weiss there?
Here too, obviously there is a knock-on effect on transport. Delivery periods are longer, and we are seeing the cost of transport inflate as a result of the general rise in prices. But for Gebrüder Weiss, every obstacle represents an opportunity. We do not see ourselves foremost as a transport company, but rather as a solution manager. Just recently we launched a new Air & Sea product on the market: goods are collected in the European producing countries and flown to Singapore. From there they are brought by ship to Australia and New Zealand. This type of service, in this magnitude, is brand new; we were able to offer faster delivery times and lower prices for the route. Things like this obviously have potential even after Covid.

What else do you hope to achieve with your team in Oceania?
We plan to set up country organizations in Australia and New Zealand that are structured like those we maintain in Asian countries. With our own offices in major cities, for example. We've already made quite a bit of progress in New Zealand on this front; we need to catch up in Australia. The past two years, Covid has certainly put a brake on things. We want a presence in Brisbane and Perth. We want to establish specific supply chains within the country so we can offer more than Air & Sea freight. At the moment we are locally in contact mainly with three, four countries. If we tapped our entire network, we could obviously achieve a great deal more. My personal hope for this year is to finally overcome the spatial distance and travel to these countries. I also hope that local management there will have an opportunity to visit our head office and our Asian organizations, – and to sit down together over an Australian, Austrian or Asian beer.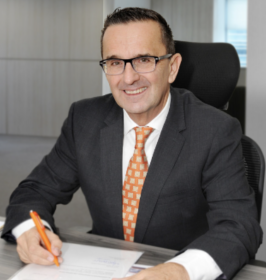 Michael Zankel (Image: Gebrüder Weiss)