Klaus Bannwarth in conversation
From start to finish along the value chain
Issues
Text
Tags
Wels might be an average Austrian town but the same cannot be said of its Gebrüder Weiss branch, which is the second-largest in the group's entire network. What do they do differently here? The local manager Klaus Bannwarth discusses uniform standards in logistics warehousing, employee motivation, and future scenarios.
Mr. Bannwarth, is Wels a location like any other?
The Wels site is custom-made for combining logistics, land freight and air freight. Needless to say, that's partly a product of its geography: we are on the intersection between Austria's main north-south and east-west highways. As a result, deliveries inside Austria never take long and we have convenient long-distance routes to every part of Europe. Drivers heading north from the highway are confronted by two huge logistics terminals. The sheer size of the site, plus the freight transhipment station in the south, are enough to take your breath away. And we are all one big family; work is simply more fun that way.
Gebrüder Weiss likes to advertise its consistent standards worldwide. Why is that so important for a logistics company?
In my eyes, standards are a must in any modern enterprise. They serve to guarantee sustainability and the quality of our work, and help employees and customers get oriented in a snap. As, for example, is the case at McDonald's: even if you don't know where you are – in Vienna, London, Paris or anywhere else – you know you are in a McDonald's because everything is standardized. That starts with the branding and extends through to the signage. And that's exactly how we want our sites to be.
Infrastructure and warehouse design are both key to standardization. Why?
Standardization really does penetrate the entire value chain, from start to finish. We begin, so to speak, with the internal processes in our logistics operations, i.e. our day-to-day operations. Of course, we need to be frank here and discuss some of the innovations with the employees. Parting with established systems that have proven their worth can be a wrench. But at the end of the day, everyone understands that standardization is right. If we apply the same design to all our workplaces, storage facilities, outdoor areas and pathways, workers will have a consistent environment everywhere to perform their processes. The equipment and products we need – anything from broomsticks to pallet trucks – are always stored in the same places and labeled using the same conventions. Routines therefore become a bigger part of our work, allowing us to learn more quickly, operate more intuitively, perform our processes faster and more efficiently, and reduce the risk of errors. That, in turn, helps minimize both our personnel expenses for individual processes and any costs resulting from complaints.
What do multifunctional desks and the consistent labeling of warehouse equipment have to do with a commitment towards employees?
Our industrial workers are the driving force behind our success at Gebrüder Weiss. They are the ones who put the management decisions and instructions into practice, who make them succeed. That's why it's important we show them the respect and appreciation they deserve. By standardizing the labels on the equipment, we help employees navigate their workplaces. It also means they can work in a familiar environment at all times. The multifunctional tables play their part too, adding a feel-good factor. These are ultra-practical tables that are tailored specifically to our everyday work – not simply random tabletops on frames. Professional packaging tables, we might say, demonstrate our commitment towards our employees, and that is one of our guiding principles. Moreover, things like this keep motivation high among our teams.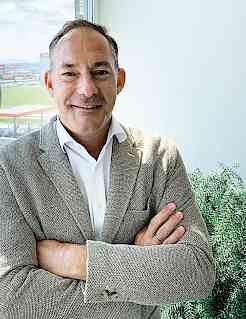 So organizing things is the solution?
Yes. Keeping things organized is indeed the solution. You can walk into these warehouses any time of any day and you'll notice it instantly. Maintaining standards is easier if the work environment is easy to keep clean and systematized. You only need to ask the people on the plant floor how they feel now. To date every single one has confirmed how much better it is.
Before taking over at Wels, you were the branch manager in Graz. How does your work at the two sites differ?
On the one hand, of course, there's the business environment. Here in Wels we move two-thirds more goods, have two-thirds more space and I manage two-thirds more employees. The operations are on a completely different scale. And, on the other hand, we have far more potential for efficiency than in Graz here. Wels is driven by a very powerful economy.
There are 270 employees at the Wels branch. What is it that connects them?
What bonds the workforce here is undoubtedly our single-mindedness and openness – plus the team spirit you can sense at our family parties and outings. We also have a really genuine and respectful way of interacting with each other. That's what makes us successful. And we celebrate our successes – that's important because there are both highs and lows that we need to negotiate together.
What's your preference? Normal or special?
I like normality, for example when I'm out for dinner. But I love the exceptions. For me, exceptions are special challenges, or visions of the future that I can pursue. I'm very proud of all the work my staff accomplishes day after day, and that makes the success we achieve together so special. And I have the vision that this branch can become energy selfsufficient one day. Protecting the environment is very important to me personally. We have created two photovoltaic installations here; We're developing an intelligent load management system and are about to start test operation of hydrogen-powered caddies for the yard.


Imke Borchers is a literary scholar and editor for the Atlas.