Stefan Sagmeister in conversation
Both beautiful and good
Issues
Text
Pictures
Miriam Holzapfel

Tags
What do logistics have to do with the Austrian Pavilion at the Venice Biennale of Architecture? Quite a bit, actually. Stowing cargo and making on­time deliveries are an act of aestheticism. You can simply stuff packages, crates and other objects willy­nilly into the relevant receptacle – or you can use logic, packing densely and saving space. The order that results is practical, because you've made maximum use of the available space; nothing will slide around and get damaged in transit. It's also more pleasing to the eye than chaotically loaded cargo, and the recipient will be happy when everything arrives in good shape and in good time. And that is the bridge to the pavilion in question, which was sponsored this year by Gebrüder Weiss.
The Austrian Pavilion at the Venice Biennale was built by Josef Hoffmann, one of the most prominent representatives of Austrian architecture in the nineteenth and twentieth centuries. It is, if you will, an architecture founded on aes­thetic functionalism: the buildings are attractive, but at the same time fulfill a very precise purpose. This principle has been further resumed in the current design of the Austrian Pavilion. A huge equality sign cut into the floor connects two rooms in which typographic Films are projected onto the ceiling. One centers around beauty, the other around func­tion. In other words, beauty equals function, as postulated by Sagmeister & Walsh, the American design agency that created this installation – and was founded by Bregenz­born Stefan Sagmeister. People have long been reflecting on the interplay between beauty and function. Louis Sullivan's "Form follows func­tion" postulates that beauty – or more precisely, a beautiful shape – results only if it is developed from its function. Adolf Loos distilled this pronouncement into "Ornament and Crime," by which he meant that pieces of a whole that do not serve a function are ugly per se – we want an attractive house, but also want to live comfortably within its walls. But is beau­ty really inextricably linked to function? Andreas Uebele asked Stefan Sagmeister 20 questions.

1. This year you're representing Austria at the Biennale, but you've been living abroad for 27 years. What is Austrian about you?
I spent all of my really formative years in Austria, until the age of 18 in Vorarlberg and then until 23 in Vienna. Although I would call New York my home, I still feel Austrian and not American. I'm here on a Green Card and have never become a citizen. So here's the short answer to "What is Austrian about you?" Everything.

2. Beauty = Function is the theme of your work. Can you give me some everyday examples?
We arrived at it through our experiences in our studio: we learned that the more seriously we take a form, the more love we invest in its beauty, the better it will function. There are myriad examples that illustrate this. Take all the functional residential buildings that were erected in the seventies and needed to be demolished in the nineties because no one wanted to live in them. That would have worked much better, had beauty been part of the overall objective during the plan­ning phase.

3. Where is beauty lacking?
Everywhere. Every day. Online. Everywhere.

4. Can beauty exist without function?
Of course it can! In spades! Almost all art has either no func­tion at all or only a very marginal one. It simply is. It doesn't need to do anything. The French philosopher Theophile Gautier even believed that functionality inhibits beauty. He held that only things that don't function can be beautiful. The most functional room in a home? The bathroom.

5. Or function without beauty?
Yes, that exists too. Driving on the autobahn may function beautifully: take the ideal curve of the exit ramp. But that's not beautiful. Most people will agree that highway exits are not beautiful; that's why no one spends their vacation there and there aren't any hotels built underneath those viaducts. But that could change – if the exits were designed with love and care.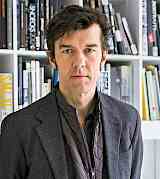 6. Can things that are kaput be beautiful as well?
Yes, of course – in a certain context. A John Chamberlain sculpture will always look great in a Dia:Beacon museum. But if you show people photographs of the Taj Mahal and a garbage dump, almost everyone will find the Taj Mahal more beautiful.

7. What is beautiful about Austria?
St. Stephan's Cathedral. The Kunsthaus Bregenz art museum. James Turrell's Skyscape in Oberlech.

8. What is beautiful about America?
The New York skyline. The Grand Canyon. "Spiritual" by Pat Metheny and Charlie Haden.

9. Is ornamentation a crime?
No. At the end of the day, I don't even think Adolf Loos believed that.

10. Does form really follow function?
No. This idea was voiced by the Chicago architect Louis Sulli­van. Yet when you look at his work, for instance the entrance to the Carson Pirie Scott building, it's readily apparent that this form does not follow any function whatsoever. It is fanci­ful, decorative – and ornamental.

11. Is beauty a luxury?
No. We all feel better in a beautiful environment. And we behave differently. Every morning I go jogging on the High Line in New York and only rarely do I see even a scrap of paper littering my way. Just 50 yards away, in the neighboring Meatpacking District, there's lots of litter in the gutters. But not on the High Line. The care used to design the green­ way affects visitors' behavior.

12. What would you "embellish" if you could?
The security checks at airports.
13. Can beauty also be obstructive?
Maybe. But I for one would rather be obstructed by beauty than repelled by ugliness.

14. What can you say in defense of ugliness?
We can describe beauty as a "formal intention," and ugliness can also be defined as such. We tend to like and treasure what is intentionally ugly. But most ugly things in the world are not ugly because somebody wanted them to be. They're ugly because someone didn't care.

15. What hope underpins the belief in beauty?
That it will be taken seriously again, and once more become a goal of our endeavors.

16. Is the American concept of "beautiful" different from that in Europe?
Many of us think something is beautiful because it's familiar. Context also plays a big role: the more secure I feel, the more likely I am to perceive new, surprising things as beautiful. Last week I visited the museum MassMoca in Massachusetts and experienced a piece from James Turrell entitled "Perfectly Clear." (By the way, he is also the artist who will be redesigning the façade of the MAK museum in Vienna.) It was so beauti­ful that, for me, it came close to a drug­induced experience.

17. What would it take for you to transfer your permanent residence back to Austria?
Beautiful gas stations. Beautiful bus stops already exist, at least in Krumbach in the Bregenz Forest.

What are your secret hopes ...
18. ... for your homeland?
I never have secret hopes for Austria.

19. ... for your current homeland?
That Trump doesn't get reelected.

20. ... for the world?
That Trump doesn't get reelected. He is not exactly beautiful.